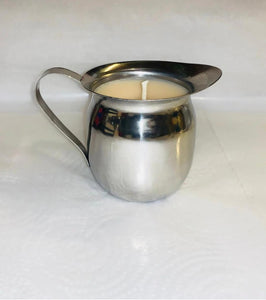 Kettle soy candles are a cute asset to any home or office.  These beauties are single wicked, 8 oz. and can scent up any room.  All candles are hand poured in small batches using 100% natural soy wax infused with phthalate-free premium fragrances, and lead-free wicks. 
Our soy candles burn cleaner and longer than paraffin based candles.  Each ingredient has been extensively tested by a third party which found no evidence of potential skin irritation or allergic contact sensitization among 55 test subjects.  All ingredients have been dermatologically tested and approved for safe, healthy use on the skin.
Our soy candles are hypo-allergenic. They burn into a soybean oil that can be safely placed on your skin to be used as a massage oil, a perfume/cologne oil, or as a moisturizer.